The Pharma & Biopharma Outsourcing Association had a milestone week!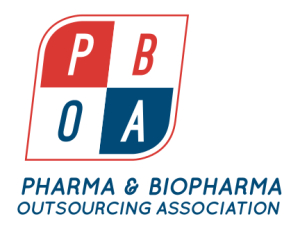 On Monday, June 15, I gave a presentation at the FDA's public hearing on reauthorizing the Generic Drug User Fee Amendments (GDUFA). Six of our member companies made the trip to Silver Spring, MD to support me, and I was pretty heartened to know that they had my back. The PBOA was part of the "trade association block" during the hearing's morning session. I volunteered to take the final spot, behind the Bulk Pharma Task Force (BPTF) and the Generic Pharmaceuticals Association (GPhA). If you visit the hearing site, you'll be able to check out a webcast of the whole day's proceedings. If you just want to see our past, click on Webcast Link 2, advance to the 54:00 mark, and watch/listen. (You can find a PDF of our presentation right here.)
In my presentation, I spoke about the impact of GDUFA on CMOs and CDMOs, in particular the Facility Fees for Final Dosage Form manufacturers. The FDA panel, comprised of staff from the Office of Generic Drugs (OGD), which will be holding industry negotiations this fall for GDUFA's next five-year authorization period (FY2018-2022), seemed receptive to some of the examples I gave of the unfairness of GDUFA I's flat, no-waiver Facility Fee structure. One that really stuck a chord was the situation where a CMO/CDMO has a single generic client, with a still-backlogged ANDA, and has paid three straight years of GDUFA fees (around $643,000) without seeing any appreciable revenue.
Since it was my first presentation in this arena — notwithstanding my improv Open Comments session last September (here's the transcript) — I did my best to strike a diplomatic tone. My approach throughout the process of building the PBOA and in reaching out to FDA and OGD about GDUFA is that we want to work together. To that end, I asked the panel to bring PBOA into this fall's negotiations so we can bring in the CMO/CDMO perspective and make a positive contribution to GDUFA II. I'll let you know what they say.
Because the PBOA wasn't around when GDUFA I was being negotiated, I think it's more important to look forward and to discuss how we can help make GDUFA II a better, more effective user fee, while achieving the law's goals of safety, access and transparency. Certainly, our presentation does include a section on the possible impact of GDUFA fees on CMOs, including the potential to drive them out of the market in a vicious cycle that could lead to higher prices and drug shortages, but I tried not to invoke a "scare tactic" attitude.
That said, the trade associations that spoke before I did were part of the negotiations for GDUFA I, they weren't very happy with how the first three years of GDUFA have gone, and they were quite vocal about it. Both BPTF and GPhA's speakers harped on the increasing lag time for ANDA reviews, inspection timelines, and greater opacity in industry-agency relations.
I was gratified to find that the BPTF has similar concerns to ours, and their presenter, Alan Nicholls, offered up some interesting ideas for GDUFA II. We talked a bit during the hearings, and it's my hope that all our groups will be able to work together with OGD this fall.
After my presentation, the panel had a few questions for the three of us. For PBOA, they focused the issue of CMOs that are paying GDUFA fees but aren't seeing the benefits of generic drug approvals. I told the panel that I'd work with our members and other CMOs to put together some figures on that.
The hearings broke for lunch, and the PBOA members in attendance — one-third of our membership! — thanked me for getting up and speaking for them. Soon after, other interested parties came by to learn more about the PBOA and tell me about their interests in seeing a new structure for GDUFA II. In all, it was a very positive event for me and the association.
In the afternoon, I drove up from Silver Spring to Philadelphia with two of our board members, so we could get ready for the annual BIO meeting. That two-plus-hour drive was filled with postmortems about the hearing and plans for PBOA activities. I enjoy these sorts of drives with board members, since it takes us out of the standard contexts for conversation — offices, trade-show floors, phone — and opens up new ways for us to talk. Also, we get to trade stories about road-trips.
(In fact, I pitched the board on renting a van or mini-bus, bringing a bluetooth conference call speaker, and holding our quarterly board meeting (with call-ins) on the way up to Philadelphia. While they appreciated my MacGyver-esque flexibility, they thought it would be best to hold the meeting in a more traditional office scenario during BIO week.)
---
When I got to my hotel in Philadelphia, I got the great news from our business attorneys that the IRS has approved the PBOA's application for tax-exempt status as a Business League under the 501(c)(6) tax category. It was a lengthy application process, but our attorneys were optimistic we'd win approval, which is retroactive to the date of our incorporation. There's no timeline for a review, so I got a little taste of what generic companies go through when they submit an ANDA. (Okay, this only took about a month to be reviewed and approved, not the 48-month lag that GPhA cited in their presentation at the GDUFA hearing.)
That was a relief, since our non-profit status greatly facilitates our ability to work with FDA, as well as other trade groups. When I was building the PBOA and pitching it to our Founding Members, it was important to me that they understand being a non-profit means there's no "build it up and sell it to [media company x]" model for me. Rather, we're in this for the long haul.
---
So, BIO! Honestly, there weren't enough hours in the day for all the people I hoped to talk to over those three days. Tuesday (June 16) was packed with meetings with prospective members, media partners, other trade shows, and current members (I can't talk much about those, but I will note that the reception we're receiving now, versus a year ago when were just getting started, is like night and day. Or vice versa.) I didn't manage to take a break until around 3 p.m., when one of my trustees realized I hadn't stopped for lunch and guided me over to Reading Terminal Market. We were both deeply confused to see an Amish rib joint, and elected to have have some gyro.
I skipped the BIO receptions and events, so I could take care of work (and watch Game 6 of the NBA Finals in my hotel room). I did feel bad passing on the Roots and Kool and the Gang (!), but I need to pick my spots.
The second day of BIO was filled with yet more meetings, another gyro lunch at Reading Terminal, and our quarterly board meeting, which was held a few blocks away from the Convention Center at the offices of Jacobs Wyper, an architecture firm that has worked with many pharma companies and CMOs. I was awfully happy that our chairman, Peter Bigelow, was able to arrange that space, as conference rooms can be at a premium during BIO week, given the event's reliance on off-site meetings.
I'd tell you more about the contents of the board meeting, but that's the sort of good stuff that benefits our members, first and foremost. Once you join up, you'll understand!
On the last day of BIO, I moderated a panel at the BioProcess Theater: Executive Perspectives: Challenges and Opportunities for CMOs/CDMOs. The panelists came from four of our PBOA member companies: Tom Thorpe (Afton Scientific), Michael Riley (Catalent Biologics), Vic Vinci, Ph.D. (Cook Pharmica) and Amit Arora (Jubilant HollisterStier). We had an hour-long conversation about the business side of outsourcing, and the publisher of BioProcess International (BPI), who'd invited us to host the panel, seemed awfully happy with the results. The previous sessions focused on the science and technical side of bio-manufacturing, so we made a nice, informative contrast by talking about the human side of the business, in terms of staffing, working with regulators, make-or-break issues for negotiating with clients, and more.
It was a fun talk, although I'd have been more comfortable sitting at the table with the panelists, rather than standing at a podium, leaning sideways to address them, the mic and the audience, but we had a good turnout and even managed to get a question or two from the attendees at the end.
More importantly, the panel was recorded and will be part of an upcoming BPI supplement. The publisher, Brian Caine, asked us after if we'd be willing to expand on some of the panel topics and talk more about that human aspect of outsourcing. So look forward to more contributions from PBOA and its members!
After the panel, there was another lunch meeting (no gyro this time), then more drop-ins at various exhibitors' booths. Also, for the third straight day, I got my afternoon coffee from the ReAnimator coffee stand in the convention center, since they make pourover coffee. (They were happy that someone was asking them for that instead of standard drip coffee.)
Finally, I drove back to home base in northern NJ, where the official PBOA dogs greeted me at the door.
---
There you have it! A great conversation with FDA, good news from the IRS, lots of productive meetings at BIO, our best quarterly board meeting yet, and an entertaining panel at the BioProcess Theater! Not bad for a week's work.
Want to learn more about the PBOA? Drop me a line or visit our membership page!